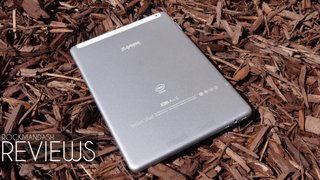 Confession time: I'm an idiot who carries two tablets. I have my Android tablet because it's great at doing tablet stuff like media consumption, but Windows tablets are quite a bit better for productivity and the windows exclusive programs out there are great. Enter the Teclast X98 Air II, a dual booting Chinese tablet that runs both Android and Windows for $200 USD with a retina iPad display for a fraction of the cost. Is this truly the fully realized dream of dual OS tablets, or is it a flawed compromise like critics have been saying? I'd have to go with the former.
---
What is it?
The Teclast X98 Air II is a dual booting tablet made by a Chinese brand you've probably never heard of. It's one of many iPad Air clones with a 9.7 inch, 2048x1536 display and an eerily similar design, but where it differs from apple's titan of a tablet is that these usually sell for around 200 USD, and along with the different price comes different specs. These rock a Quad Core Intel Atom, and this x86 processor enables this machine to boot into both Android and Windows. There's a whole bunch of tablets like this one that are made by different brands like Onda and iCube that are pretty much identical, with minor differences between each other (this one has Micro HDMI for an example, but is only in white), but they're pretty much all the same. Here's the specs that you can expect from a tablet like this, more specifically the specs of my Teclast:
| | Teclast X98 Air II |
| --- | --- |
| CPU | Intel Atom Baytrail Z3746F Quad Core @ 2.16Ghz, x86 |
| Memory | 2 GB LPDDR3, 32 GB eMMC + SD slot up to 64gb |
| Display | 9.7 inch, 2048 x 1536 IPS LCD (@264 ppi) |
| Dimensions | 240 x 169 x 7.4mm, 498g |
| Cameras (That suck) | 5MP Rear / 2MP Front |
| Connectivity | BT 4.0, Wi-Fi 802.11 b/g/n, micro USB, Micro HDMI, 3.5mm |
| Battery | 8500mAh Battery |
| OS | Windows 8.1 Bing, Android 4.4 |
| Pricing | $200 USD @ Geekbuying |
---
Why Does it Matter?
I like to think of these Chinese tablets as both similar to those those budget 27 inch Korean panels that were essentially Apple Cinema Displays but for a fraction of the cost, and a great example of why brands aren't everything: Yes, there are issues, but the gains really outweigh the negatives and these would have never happened without these Chinese brands. Yes, these tablets aren't perfect and you risk not having customer service, but as a tradeoff, you get something that is surprisingly good. No tier 1 OEM sells a tablet this nice at this price point, and these even have the ability to run both Android and Windows! Outside of these Chinese OEMs, there's really nothing like this, and in comparison this tablet is pretty well spec'd, feature filled, and great for the money.